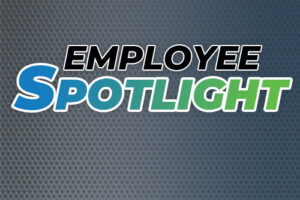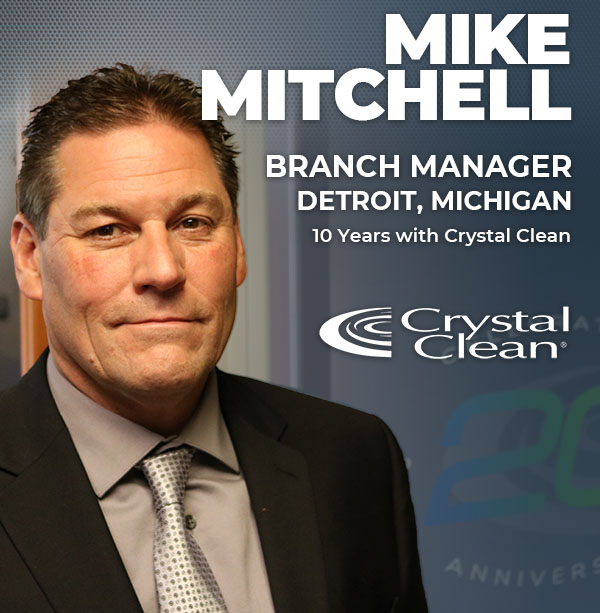 Things are always moving in the Motor City, and that includes Crystal Clean's Detroit branch. If you arrive at the branch bright and early in the morning, chances are you'll bump into Branch Manager Mike Mitchell, who has probably been there since before the sun has risen.
Mike entered the world of environmental services after a career in the tank cleaning and automotive industry. After spending time in various labor and managerial roles, he made the jump to the environmental services business. While there was a big learning curve at first, Mike took the time to build his knowledge and was able to quickly become well acquainted with the industry.
"There's a lot of knowledge that you need to build up in the environmental services industry," Mike said. "You need to know how to perform your services safely, understand different waste streams, be up to date on regulations and reporting requirements, and of course manage the customer relationship. There's a lot of knowledge to take in at the beginning, and the best thing you can do is ask questions."
And that's exactly what Mike did when he started his career at Crystal Clean in 2010 as an SSR at the Detroit branch. As he worked his way up to BSM and then BM, he wasn't shy about asking questions. In fact, asking questions led to building relationships, a support network, and mentorships with people around the company that have helped him grow his career.
Since stepping into his leadership role as a BM seven years ago, Mike has been dedicated to building a positive support culture at his branch to help all his employees grow their own careers.
One of the biggest things Mike does is make sure he shares his knowledge with his staff. One of his goals is to always be an open book, ready to answer any questions. He also intentionally starts a mentorship with all new hires to help them get acclimated to the industry, and he makes sure to continue the mentorship with ride-alongs as time goes on to help all his employees keep growing. Mike also likes to start his morning early and his goal is to get to the branch before any other employees arrive and get things prepared for his staff.
"As people start to arrive in the morning, I have the chance to check-in with my team and see if there are any challenges, they may need help with," Mike said. "Helping my staff feel supported and listened to has always been a priority for me. What I love most is the relationships I build with my team, watching them grow and get better at what they do."
That support can go a long way too. Mike is always ready to hop on a truck or answer any questions his staff has. His willingness to help no matter what has left a lasting impression on many of the people who have had the opportunity to work with Mike.
"Mike has been a great leader and is always willing to listen," shared Detroit Branch Clerical Sylvia Bachran. "Whenever you have a question, he takes the time to walk you through it and is very patient. He is always encouraging us that we can get anything done and does a great job creating a positive culture at our branch."
Mike has always been passionate about supporting others, and with that he has gained a lot of valuable insights he hopes to continue sharing with employees as they grow their careers.
"I love the idea of supporting others to help them reach new heights and want to continue to do so in the future. Crystal Clean is going to continue to grow in the coming years and take the next steps as we continue to be a leader in the industry. There are constantly new opportunities for employees to grow their career and make a good living while working here," shared Mike.