Maintain Proper Compliance with AFS
As a leader in the environmental services industry, Crystal Clean is well-versed in helping customers navigate federal, state, and local environmental regulations. Our vision is to protect the earth's resources by helping the business world run cleaner. Our team is constantly looking for opportunities to assist customers by improving their operations and sustainability.
Air compressors can play a major role for many operations, and a significant concern arises from the condensate that forms within these systems. Air compressor condensate often containing oils that can pose a serious threat to both the environment and human health if released into water systems. Improper disposal of air compressor condensate not only carries the potential for regulatory fines but can also damage your company's Environmental, Social, and Governance (ESG) performance. Crystal Clean's aqua filtration system (AFS) is an innovative, automated solution to the challenges posed by air compressor condensate.
By integrating an aqua filtration unit into your operations, you can effectively filter out the oil from air compressor condensate, ensuring proper disposal and significantly enhancing waste management practices within your business. Our fully automated system removes the hassle of safely collecting, storing, and managing this waste stream. Our team of sales and service representatives will handle all the maintenance of the AFS unit, letting you focus on running your business. This proactive approach helps you improve your operational efficiency, reduce environmental risks, and improve your ESG and sustainability practices.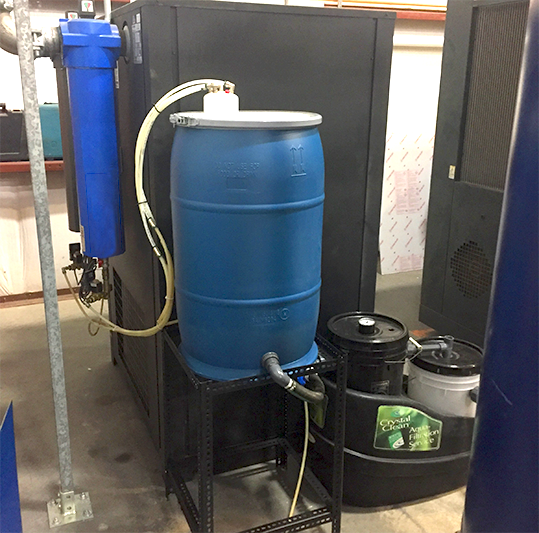 Highlighted Industries
Crystal Clean's Aqua Filtration Systems are suited for a wide range of applications in a variety of industries, including:

Machinery & CNC Shops
You need a company you can count on to meet your needs. Crystal Clean offers the environmental services technicians depend on to keep your business in compliance with regulations.

Fleet & Transportation
Keeping your maintenance operations running efficiently matters. Crystal Clean offers the environmental services technicians depend on to help keep your fleet on the road and out of the shop.