Clarifiers, Triple Basins, Sump Pits, and More
Crystal Clean is the company to rely on when you need swift and effective cleaning services for oil water separators, utilizing our fleet of high-capacity 3,800-gallon vacuum trucks. Our team handles the entire cleaning process from start to finish, collecting all liquid and sediment buildup within the separators and hauling offsite for proper disposal. Our team doesn't stop there, and we thoroughly flush and recharge all drain systems; to ensure proper flow to the separators and maximum efficiency. Finally, we conduct a proper system flush, resulting in a comprehensive process that leaves your oil water separator system clean, unobstructed, and fully operational for uninterrupted service.
Developing a routine cleaning service for your sump pit is crucial to prevent debris buildup and potential clogging. A clogged catch basin can result in overflow, leading to flooding that disrupts your business activities. To avoid these issues, we take proactive measures to drain and remove all sediments and debris from your catch basin and sump pit, ensuring worry-free operation.
You can count on our professional sales and service representatives to execute this process effectively, quickly, and safely to ensure minimal downtime to your business during servicing. Crystal Clean provides top-notch wastewater vacuum truck services for the industrial and automotive sectors, keeping businesses compliant and clean. We value your business operations and strive to maintain a streamlined process to give you the exceptional service you deserve. Our team is prepared to serve you and meet your needs for routine and emergency service.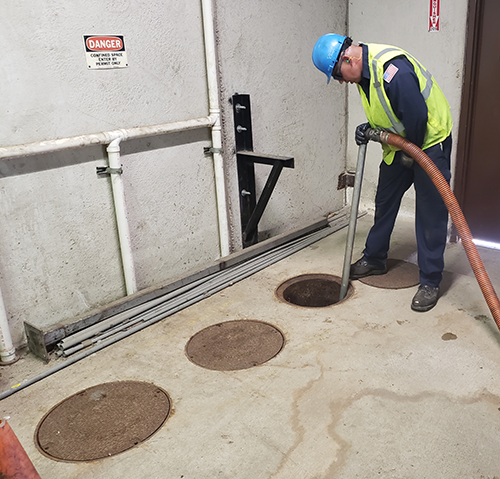 ---
Highlighted Industries
Crystal Clean's Wastewater Vacuum Truck Services are suited for a wide range of applications in a variety of industries, including:

Industrial
Crystal Clean's comprehensive suite of environmental services make it the perfect partner for industrial businesses looking to have all their environmental services performed by one company.

Dealerships & Retail
Your dealership needs to be running on all cylinders every day. Crystal Clean offers the full suite of environmental services needed by automotive dealerships and retail shops.