Our Approach: No Compromises. We Do It Right, Every Time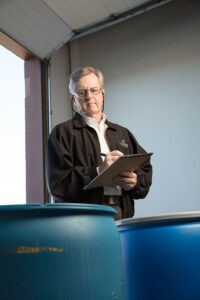 We take compliance seriously and are committed to achieving and maintaining an exceptional compliance record through the careful diligence of our trained, professional employees.
Our turnkey service includes a thorough review of the wastes generated at our customer locations to ensure that the waste removed from your facility is properly qualified and managed in full compliance with applicable regulations.
We have invested in a comprehensive Environmental Management System (EMS) to increase accountability using advanced environmental performance metrics. We also conduct routine internal facility audits to ensure that we operate in compliance with all federal, state, and local environmental laws and regulations. Through our Enterprise Risk Management team, we routinely identify potential hazards, prioritize and implement action plans that will eliminate or mitigate environmental and safety risks, and protect our employees and customers.
We emphasize the importance of going above and beyond industry standards and company policies and guidance, promoting sustainable efforts to protect the environment. We continue to strive to ensure that our services, facilities, and activities protect our customers, communities, and the environment.
In additional to Crystal Clean's own internal audit program, we have partnered with several leading auditing organizations to improve our organizational accountability on safety and compliance.
Cyrstal Clean has partnered with CHWMEG, a global facility auditing organization, to continually review the environmental operations of our various facilities and gather environmental compliance data on our operations. Since our partnership began, 69 Crystal Clean facilities have undergone thorough reviews from CHWMEG. Together, we are working towards a responsible, sustainability-minded future.
Crystal Clean also works with ISNetWorld, Avetta, and several other third-party evaluators, to provide information to online contractor management databases. These third-party evaluators assess companies on health and safety programs and policies, regulatory records, and sustainability operations. The data can expand Crystal Clean's visibility and provide information as part of a customer's pre-qualification process.