Full-Service Cleaning of CNC Machines to Maintain High Performance
Regular use of a CNC machine results in a substantial amount of debris accumulation, gradually impacting the efficiency of the coolant used to maintain its peak performance. To ensure proper maintenance, it is necessary to both vacuum out liquids and sediments and to wash and degrease the machine thoroughly. This process is vital to prevent residue from contaminating new coolant. If left unchecked, this can have adverse effects on the machine's performance and, lead to shorter tool life and reduced machining quality. By implementing routine vacuum services to keep the machine clean, its lifespan can be extended, and overall operational efficiency can be enhanced.
When you entrust your CNC machine cleaning needs to Crystal Clean, you can take advantage of the expertise of our professional wastewater vacuum truck fleet. Crystal Clean's team of sales and service representatives have the tools needed to make CNC machine cleaning, simple, and safe. Our 3,800 gallon capacity trucks can handle jobs of any size and use our advanced vacuum pumps to easily sump out coolant, metal shavings, and other contaminants. When we complete our job, your machine is clean and ready for optimal performance.
Our exceptional service surpasses expectations by giving the operating chamber of the CNC a thorough washing. This meticulous process safeguards the new coolant from potential contaminants, to allow for consistent machine cuts and longevity. No matter where your CNC machine is located, we have the flexibility to reach it and provide a reliable high-performance cleaning process. Compared to conventional vacuum pumps, our equipment significantly reduces cleaning time, and can complete the job within minutes rather than hours. This time-saving benefit translates to cost savings for your business, making our services a practical and efficient choice for your CNC machine maintenance.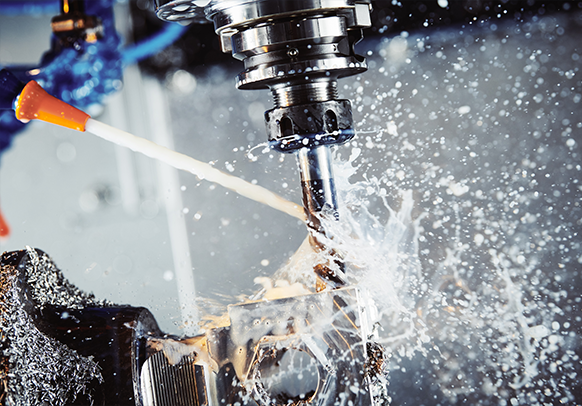 ---
Highlighted Industries
Crystal Clean's Wastewater Vacuum Truck Services are suited for a wide range of applications in a variety of industries, including:

Machinery & CNC Shops
You need a company you can count on to meet your needs. Crystal Clean offers the environmental services technicians depend on to keep your business in compliance with regulations.

Industrial
Crystal Clean's comprehensive suite of environmental services make it the perfect partner for industrial businesses looking to have all their environmental services performed by one company.