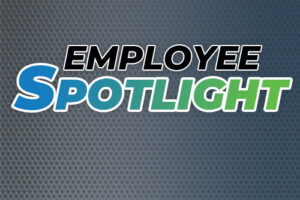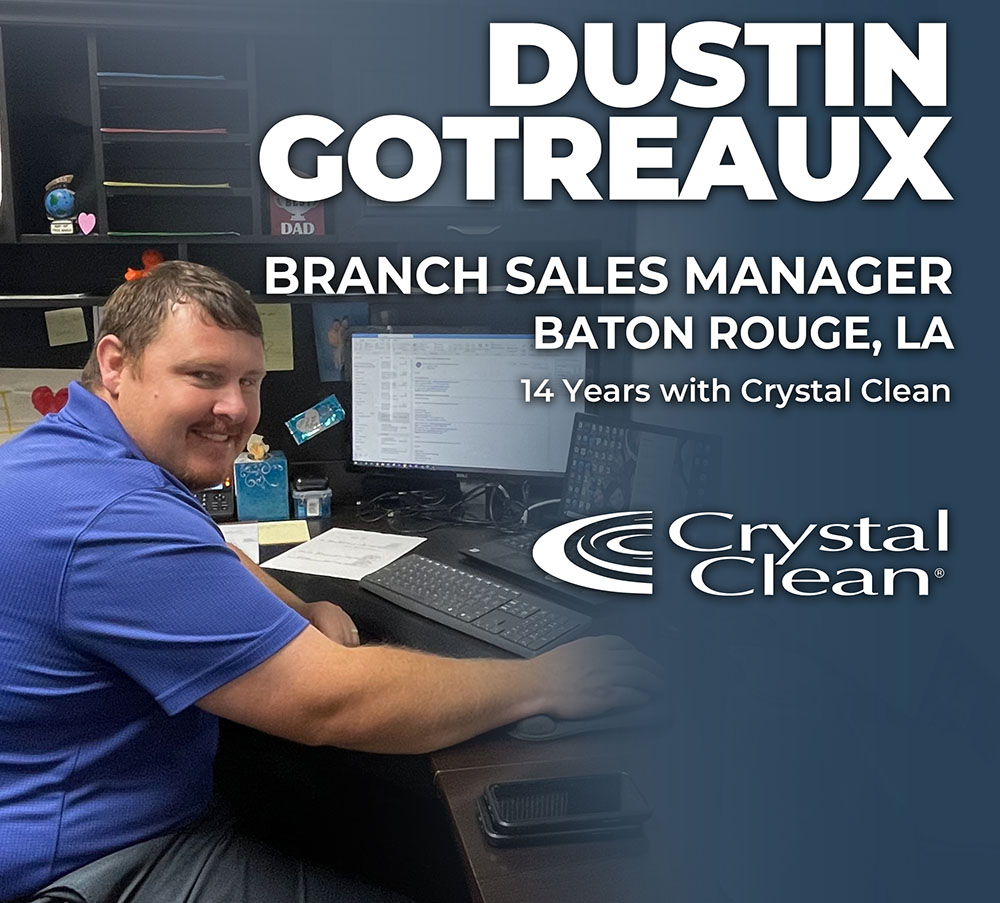 Sunrise this time a year is typically just around 7 a.m., but there are some early birds who like to already have some time working under their belt before the sun peeks over the horizon. They already have their coffee in hand, going over their list of things to do for the day or checking in with co-workers. Dustin Gotreaux, Crystal Clean's Branch Sales Manager (BSM) for the Baton Rouge, LA branch is one of those early birds that starts his day nice and early.
Dustin has been a member of the Crystal Clean team since 2007 and has held a few different positions leading up to his current role. He became the BSM at the branch in 2018 and had previously spent two years as an Environmental Solutions Partner (ESP) and 10 years before that as a sales and service representative. With all that time on a truck and working together with customers, it's safe to say Dustin knows a thing or two when it comes to the environmental services industry.
"I feel like I have one of the best jobs as a BSM," Dustin shared. "I have the freedom to go out, meet people, and grow the business. Plus, I can still hop on a truck and help out if needed."
Each day is anything but typical for Dustin as a BSM. He usually arrives at the branch around 6 a.m. and starts going through emails while also checking in with sales and service representative to see what they need before he gets ready to hit the road himself. He has a goal to visit about 10 customers and prospects each day and lines up his week of appointments each Monday. And while it may sound like these visits would all be similar, Dustin shared that each visit has its own unique spin that keeps things interesting. The kind of people he meets at each customer keeps things different and lively, and he enjoys the opportunity his role as BSM gives him to meet new people and learn more about them.
"I've known Dustin for his whole career at Crystal Clean and he has really settled into his role as a BSM," Baton Rouge Branch Manager Bill Bumm said. "He's able to adapt well and is very persistent whenever he faces challenges. As a BSM, he's very good at asking questions, keeping things fun, and breaking the ice with customer visits and cold calls. The way he handles himself helps all parties relax and be engaged in the conversation."
Dustin hasn't always been this confident, and in fact he shared that he used to be very shy. However, after a bit of time cold calling customers and prospects, he's built up his confidence over the years. It's his positive attitude and focus on what's ahead that has made a difference and helps him frame each day as a new opportunity to try again.
"Always be looking forward at the future," he shared. "Don't dwell on the past. Otherwise, you can get stuck in the same mindset and things will keep going that way. There's always a new day to try again."
This forward-looking mindset is something that Dustin feels has helped lead to his success. He also decided early on to make the job a bit more personal and get involved with his co-workers. He's found that this mindset has helped him become more invested not just in the business, but the relationships with his co-workers as well. This had led to better relationships around the branch and opportunities to support sales and service representatives with their questions as they continue to learn the industry.
Being at Crystal Clean for more than a decade, Dustin has seen a lot of changes happen in both the company and his career. He's always felt challenged in his roles and has felt supported to try new things and move into new positions during his career. As he continues to work with Crystal Clean, he's excited about what the future holds for the company. "In the future, I'd like to see us to process all the waste streams we collect," he said. "We'll be able to become the end-all solutions for our customers' waste and won't have to depend on other businesses to support our waste disposal and recovery operations. That's why the recent acquisitions that grow our internal capabilities have me excited."