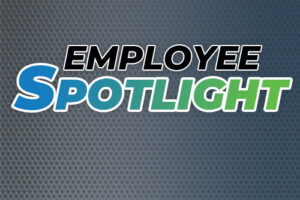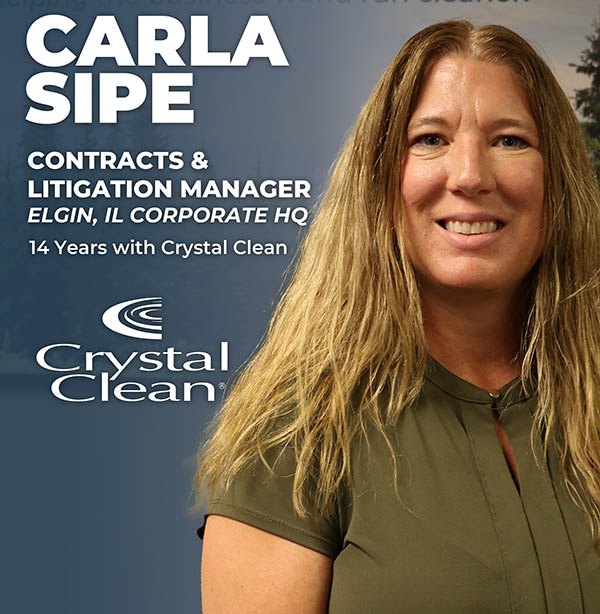 It's time to be honest. When was the last time you read through the entire terms and conditions of a website or app? If you find yourself quickly skimming and scrolling through the body of text to get to the bottom, you're not alone. A 2017 survey by Deloitte found that 91% of people agree to a terms of service without reading them. But within that last 9%, there are people like Carla Sipe who are detail-oriented and make sure everything in a contract lines up to be beneficial for both parties.
Carla has been part of the Crystal Clean team since 2007 and is currently the Contracts and Litigation Manager within the Legal Department. Each day, she wears multiple hats and can go from analyzing service agreements, submitting formalized bids for services, assisting with litigation matters, and more in a single day. Carla also finds herself and her team supporting departments across the company to help make their jobs easier as well.
"At its core, my job is help make the jobs out in the field easier for our sales and service team," she shared. "Negotiating contracts with customers and vendors, sharing certificates of insurance, providing W-9 information, and many other parts of my job is focused around creating a smooth process for setting up new customers and vendors as our field team grows the business."
Leading up to her current role, Carla has worked in several departments at Crystal Clean's corporate headquarters in Elgin, IL. She's held positions within Branch Administration, Accounting, and Corporate Accounts, giving her a thorough understanding of many vital areas that help the company continue to run on a day-to-day basis. And once she moved to the legal department, she felt that she found her niche.
"I started negotiating contracts in 2011 and I felt I found a role that was perfect for me," she said. "Every time a new contract comes in, I see it as a problem-solving challenge where my goal is to create a contract everyone agrees on. That feeling of satisfaction after negotiating a contract where both parties are happy is one of my favorite parts of my job."
When asked to share some insights on what she views as important characteristics that lead to success, Carla was quick to point out the importance of setting goals for yourself both personally and professionally. Goal setting at Crystal Clean lead Carla to create personal goals for herself that were a little out of her comfort zone. Starting with small goals and growing from there as time went on is a key piece of what she has attributed to her successful career at Crystal Clean. And encouraging others to set goals and supporting them along the way is something that is just as important.
"Carla has always been an important part of our law department. Many of the accomplishments we've had with our contracting process have been a result of her hard work and organization. Carla is also a great manager and a natural leader. We have a very cohesive and supportive team environment, and she's a critical part of it," shared David Chameli, VP, General Counsel and Corporate Secretary. "Doing the right thing is very important to her. She is extremely client focused, and she's always prepared to help anyone at a moment's notice."
Carla has always felt support by Crystal Clean and her team to grow in her career and continue to take advantage of new opportunities. In fact, she was encouraged by her team to look into Crystal Clean's Education Assistance Program to pursue a bachelor's degree. Carla took advantage of this program, and graduated from Franklin University in 2017 with a degree in Business Administration.
"There are always opportunities in front of you, and the best thing you can do is take advantage of them," she said. "Crystal Clean makes it a goal to promote from within. Asking questions and finding opportunities for you to cross-train are always a positive step forward for your career and also build your confidence in the work you do."
Carla is excited to continue her career at Crystal Clean as both the company and the Legal team continue to grow. She knows there are exciting things in store for the future and can't wait to see what's next. Carla has recently taken a great interest in traveling and has a goal to visit all 50 states and five other continents in her lifetime. Carla's most recent experience was a mission trip to Kenya, Africa. When Carla is not traveling, she enjoys outdoor adventures and spending time with family.