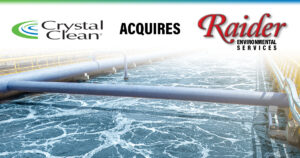 Heritage-Crystal Clean, LLC (Crystal Clean), a leading provider of parts cleaning, used oil re-refining, and hazardous and non-hazardous waste services primarily focused on small and mid-sized customers, acquired Raider Environmental Services, based in the Miami-Dade area of Florida, on September 14, 2021. The acquisition of Raider Environmental adds two locations to the Crystal Clean network of facilities, including a new wastewater treatment facility, in southern Florida.
"This acquisition is another strategic step for us as we continue to increase our internal waste disposal capabilities," Crystal Clean President & CEO Brian Recatto said. "Crystal Clean now has an additional wastewater treatment facility with non-hazardous waste solidification capabilities, which will serve as an internal offload site for vacuum and bulk wastewater as we continue to expand our retail industrial waste marketing presence."
Raider Environmental Services was founded in 2001 and has the capabilities for wastewater collection and treatment, emergency response, and hazardous and non-hazardous waste management. The company also has expertise in the unique waste management process required by the marine industry to decontaminate, transport, and safely recycle/dispose of any industrial waste produced by the cruise industry. Raider Environmental will be transitioning to doing business under the Crystal Clean name.
Heritage-Crystal Clean was founded in 1999 and operates a network of 90 service branches across the nation and multiple waste recovery centers, including an oil re-refinery, regional antifreeze recovery centers, and several wastewater treatment facilities. Crystal Clean offers the wide range of services needed to protect the environment and create a brighter, sustainable future.