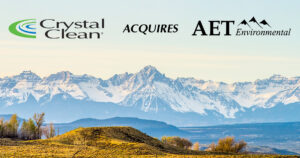 Heritage-Crystal Clean, LLC (Crystal Clean), a leading provider of parts cleaning, used oil re-refining, and hazardous and non-hazardous waste services primarily focused on small and mid-sized customers, acquired AET Environmental, based in Denver, CO, on September 30, 2021.
"We are excited to have AET Environmental join the Crystal Clean family," Crystal Clean President & CEO Brian Recatto said. "Their tremendous amount of technical experience and capabilities has been critical to their long-term success, and we will lean on their expertise as we continue to expand our technical and field services capabilities across the company."
AET Environmental was founded in 1993 and specializes in hazardous and industrial waste disposal, in-plant support and remediation, as well as training and compliance assistance. They operate four locations in the western and southern United States and serve customers within manufacturing, agriculture, engineering, medical and industrial laboratories, and more. AET Environmental will continue to do business under the same name, now as a Heritage-Crystal Clean company.
"We are excited to support Crystal Clean in realizing their vision of helping the business world run cleaner," said Frank Virginia, General Manager of AET Environmental. "We look forward to sharing our expertise with the Crystal Clean team and expanding Crystal Clean's footprint in the environmental and technical services markets."
Heritage-Crystal Clean was founded in 1999 and operates a network of more than 90 service branches across the nation and multiple waste recovery centers, including an oil re-refinery, regional antifreeze recovery centers, and several wastewater treatment facilities. Crystal Clean offers the wide range of services needed to protect the environment and create a brighter, sustainable future.