Expertise-Driven Sustainability
As a leader in the environmental services industry, Crystal Clean has the expertise to identify ways you can improve your operations through waste minimization. Whenever possible, we look for opportunities to manage the waste in an environmentally sustainable way. In today's business landscape, there is a growing push to implement environmental, social, and governance (ESG) programs.
At Crystal Clean, we recognize these the importance of sustainability and are committed to providing the necessary environmental services to support your business goals. Improvements in efficiency are a large part in waste management. One of the core concepts throughout waste management is proper disposal methods which can result in multiple forms of repurposing. We can offer multiple sustainable waste recycling and recovery methods, and also implement on-site recycling that allows for multiple opportunities to increase efficiency.
Environmental, Social, Governance (ESG)
ESG continues to be top of mind for businesses, with a growing number of investors and business leaders vowing to make more sustainable and socially responsible decisions. For the Environmental portion of ESG rankings, a score is given based on the three major groups of resource use, emissions, and innovation. These core areas are those that Crystal Clean's ESP program can improve for your business through routine consultations and guidance. Having a successful waste management system in place can help improve your business' ESG score.
Operational Improvements
A benefit to having more efficient waste management is the operational improvements that can help your business run cleaner. By identifying the right products and services for your business, Crystal Clean can help increase productivity as your Environmental Solutions Partner.
For example, our innovative Aqua Filtration Systems use our patented technology to extend the life of water-based fluids, coolants, and parts washer chemistries used in a variety of industrial applications. This minimizes down-time, improves product finished, and lowers the cost of maintenance. Crystal Clean's Aqua Filtration Systems have been successfully applied to mop water stations, CNC coolant machines, air compressor condensates, and other industrial applications using water-based fluids.
Having on-site recycling capabilities also allows for improved efficiencies and less down time. Our water systems streamline the process of cleaning and maintaining industrial fluids by providing a centralized and organized system. Crystal Clean also offers water-based aqueous parts washers that provide safe and effective cleaning options you can rely on, with our team helping determine the best cleaning process for your operations.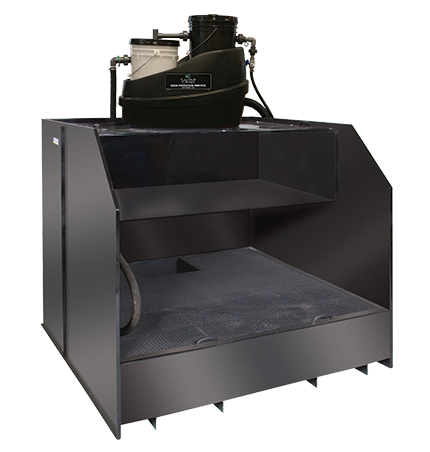 Disposal Methods
Waste doesn't need to end up in a landfill. The methods utilized in the disposal of waste can create an impactful change on the environment. One of Crystal Clean core values is in reusing, recycling, and re-refining materials which are put back into the supply chain. Our commitment to sustainability begins with the waste materials we collect. Whenever possible, the waste will be recycled, reused, or implemented in a waste-to-energy process. By providing premier, sustainable, and cost-effective services, we continue to protect the earth's resources and help the business world run cleaner.
Waste-To-Energy Recovery
Crystal Clean's waste-to- energy recovery process takes non-hazardous waste and safely converts it into energy by using it as fuel to generate electricity, reducing the environmental impact of waste. Crystal Clean will collect and transport your non-hazardous waste to an audited and approved waste-to-energy facility to be be burned in an industrial furnace to generate steam, which spins large turbines and generates electricity.
Solidification
Solidification takes liquid and semi-solid non-hazardous waste and stabilizes them into a solid, lowering the environmental concerns of landfill disposal and providing the possibility for use in a waste-to-energy program. Crystal Clean will collect and transport your non-hazardous waste to approved wastewater treatment facilities to undergo the solidification process before final disposal.
Supplemental Fuel
Hazardous and Non-hazardous wastes can be blended together at fuel blending facilities to transform liquid, sludge, and solid wastes into supplemental fuels used in manufacturing processes. Much of the hazardous waste Crystal Clean collects from its generators is approved into fuel blending and processed in kiln operations to manufacture cement.
Thermal Destruction and Incineration
Thermal destruction and incineration uses high temperatures to destroy hazardous and non-hazardous wastes and its constituents, reducing the amount of waste to goes to landfills. This disposal method can be used to incinerate liquid, sludge, and solid wastes. Crystal Clean will collect and transport your non-hazardous waste to an audited and approved facility for thermal destruction or incineration.
Landfill Neutralization
Hazardous wastes that only exhibit corrosive characteristics are eligible for neutralization treatment. Crystal Clean will collect and transport hazardous wastes to an audited and approved facility to neutralize the corrosive characteristics of the hazardous wastes. After undergoing neutralization, the waste is transported to an audited RCRA Hazardous Landfill (Subtitle C) for final disposal
Landfill Stabilization
Crystal Clean offers cost-effective and safe landfill disposal of hazardous wastes through a stabilization process. Crystal Clean collects and transports hazardous waste to an audited and approved facility to undergo a stabilization process to prepare it for landfill disposal. Once stabilized, the waste is transported to an audited RCRA Hazardous Landfill (Subtitle C) for final disposal.