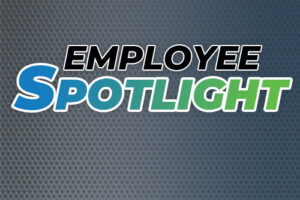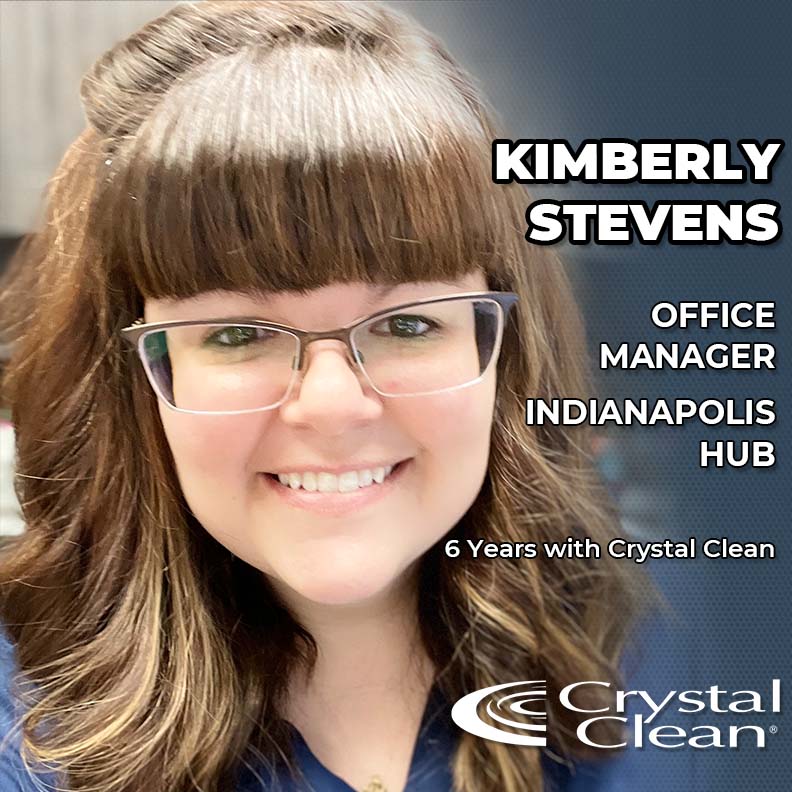 Crystal Clean has grown rapidly over the years, now with more than 100 branches and operating facilities across the USA and Ontario, Canada. With locations spread thousands of miles apart, there are a lot of moving pieces that all work together to help operations run seamlessly throughout the company. Part of the operations equation for Crystal Clean is its hub facilities.
Crystal Clean operates several hubs strategically located throughout the USA to help manage the storage and transportation process of materials to and from Crystal Clean facilities, customers, and vendors. Going into a hub, you'll see storage racks filled with products, materials, and waste collected from customers, semi-truck trailers, and plenty of hard-working Crystal Clean employees keeping things moving.
The largest hub is in Indianapolis, Indiana, and that's where you'll find Kimberly Stevens working diligently each day. Kimberly is the Office Manager for the Indianapolis Hub and while she technically oversees the clerical side of things at the hub, it's safe to say she does a bit of everything to help keep things running smoothly at the hub. She runs inventory reporting, oversees purchasing to supply the hub, and manages the paperwork process for all trucks coming in and leaving out of the hub. And this is all on top of making sure everyone in the hub has what they need to do their jobs well.
"Working at a hub is definitely a fast-paced work environment, and that's something I enjoy about it," shared Kimberly. "My focus is all about meeting the needs of the hub, and that means there's a lot of day-to-day work making sure everyone has what they need to do their jobs well. I enjoy keeping busy and it's always satisfying working on a project from start to finish."
Kimberly didn't envision herself in this kind of role when she initially thought about her career. In fact, she went to school for music education and has worked with kids and adults in various musical roles. When she joined Crystal Clean six years ago after moving to Indianapolis with her husband, all of those people skills were very helpful. Helping coordinate the operations at the hub is like helping conduct a symphony. Warehouse workers, truck drivers, and office staff are all playing their individual parts, supported by the leaders at the hub to make everything work together seamlessly.
"Kimberly has been vital part of what helps our hub stay so successful," said Hub Manager Alex Taraborelli. "She has the heart of a servant leader and is always looking for ways to help others succeed."
That desire to make things better is a core part of Kimberly's personality and is also Crystal Clean's value of excellence in action. She is always thinking of ways to improve how things are done and is consistently learning new things. When people come to her with a question and she doesn't know the answer, she makes it a point to find someone who does know the answer and learn from them. That way, she's growing her own knowledge and knows that she'll be able to help people who have a similar question.
"I'm always thinking about ways that I can improve on anything I do. I want to be able to do things faster, more efficiently," Kimberly said. "If I'm able to do my job well, then I know that will help others do their jobs well because I'm able to support them."
Working at a hub has given Kimberly the opportunity to support departments and locations throughout Crystal Clean. In fact, you catch her on the phone quite often talking to branch managers, the EHS department, product managers, and more. She consistently makes sure that everyone has the information they need to solve any problems that may come up. And part of what motivates her to give her best each day is the team at the Indianapolis hub.
"I'm proud of the team we have at the Indianapolis Hub that help keep everything moving," Kimberly shared. "Knowing that I have an amazing group of people I work with each day motivates me to do my best to support them any way I can." Kimberly is committed to continue supporting her team at the Indianapolis Hub and talked about how their teamwork together is what leads to their success each day as they support the needs of Crystal Clean. Everyone at the hub has the same mentality of helping each other out whenever possible. The past few years she shared that the hub team has really bonded together, and she is excited for what's ahead working with the same great team by her side.