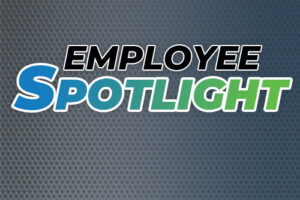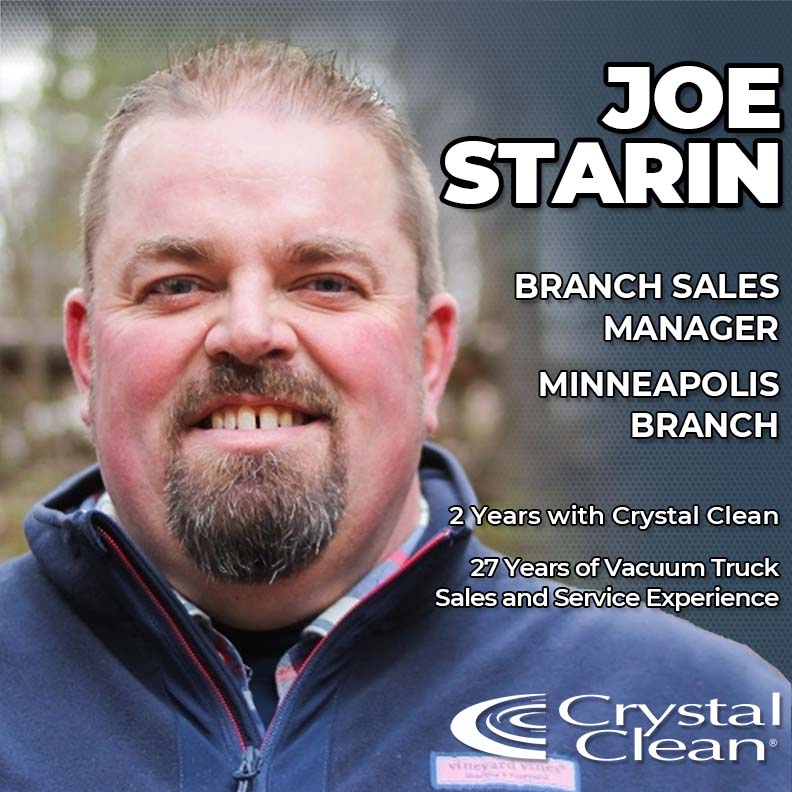 A common saying in many industries is, "It's a dirty job, but someone's got to do it." This saying couldn't be more true to our industry at times, especially sometimes when it comes to the work the folks on the vacuum truck do. But with those dirty jobs, also comes a lot of potential for a great career.
Joe Starin been on a vacuum truck for 27 years, and it's safe to say he has seen his fair share of dirty jobs in those years. He's also seen a great deal of success himself and built a fantastic career doing this type of work. And that success hasn't only been for himself, but the Minneapolis branch as well. In just two years at Crystal Clean, he grew a vacuum truck program into an extremely successful line of business.
"I remember the first week I did several larger vac jobs at the branch," Joe said. "The branch had never seen that much done in just one week, and they had to do a double take just to see how much potential there was in building a strong vacuum truck program at the branch. There's a lot of opportunity for vacuum truck programs and it was exciting to get everyone on board with the idea of building the vac program to its full potential."
It's common for some people to say they get into a career by chance, but for Joe getting into the environmental services industry was legitimately an accident. Back in 1994, Joe was 19 and looking for a job. One of his friends worked for a recruiting agency and referred Joe to apply for a warehouse job. Joe drove out to the warehouse of an environmental services company, knocked on the door, interviewed for a position, and was offered the job. It was only after the fact that he found out he had accidently gone to the wrong company for the interview.
27 years later, and Joe says that this was probably the best accident of his life. Within his first year on the job, he moved from the warehouse to working on an oil truck, and then from the oil truck to a vacuum truck. Once on the vacuum truck, Joe felt like he found his niche in the environmental services world.
"Everything is truly different each day on a vacuum truck," Joe shared. "You need to be a problem solver when going out on jobs because each service visit is different than the last stop, even if it is a similar job. You also have to adapt because there are days when you think you'll just be doing routine service visits, when you get an emergency response call that you need to go to."
Another part of the business that Joe really enjoys is the relationship building side of things. He will be the first the share that he's a people-person, and that is one trait of his that he thinks has helped him immensely in his career. The ability to build customer relationships is something Joe sees as key to building a successful vacuum truck program at a branch.
"Anyone can be taught to drive and operate a vac truck, but it takes a certain kind of person and skillset to manage a program and the relationships with customers," Joe said. "For me, being a problem solver for customers is how you win in my book. You want to be that first person they call when there's a problem. You do your job well, and they trust you to help them and do whatever is in their best interest."
Now that he's been recently promoted to the Branch Sales Manager role, Joe feels like there is a passing of the torch to the next group of vacuum truck drivers. He attributes a lot of his success to the mentors he's had in his career that have helped him along the way, as well as the strong network of vac truck drivers at Crystal Clean who all support one another.
"Joe made a strong first impression 27 years ago when I hired him at a different company and he showed moxie, confidence, and a willingness to learn right from the start," shared Jeff Roche, Division 3 Regional Manager. "He's always had a team-focused mindset and wants to contribute in the best ways he can. Seeing his career growth over the years has been amazing and I was thrilled when he joined us at Crystal Clean. Joe's not just someone who's great at what he does, he's also someone who thinks about how he can help others succeed and be the best they can become."
Whatever is ahead next for Joe, the future looks bright. He plans to keep on learning in his new role and support the growing Minneapolis branch. Joe is excited for the work ahead and looks forward to mentoring the expanding team of employees at his branch. He's committed to making an impact at his branch and helping others grow in their own careers.