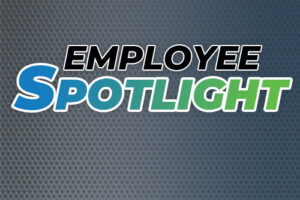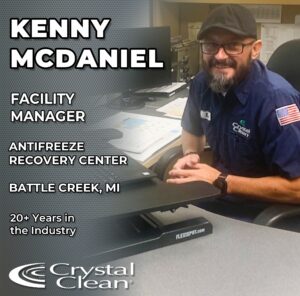 At Crystal Clean, the reason we are successful is because of the grit and drive of our employees. Our team is why we're able to provide premier, environmentally sustainable solutions to our customers. From the truck to the office and our operating facilities, we couldn't be where we are today without our team.
Crystal Clean's operations team are sometimes the unsung heroes that customers don't always hear from. They are running things behind the scenes to make sure everything is prepared and goes where it needs to go. Crystal Clean's antifreeze services team is one group where the field and operations groups are constantly communicating with one another to ensure customers receive the service and products they expect from a leading environmental company.
Crystal Clean is one of the largest antifreeze recyclers in North America and operates five antifreeze recovery centers across the nation. Out at the Battle Creek antifreeze recovery center, you'll meet Kenny McDaniel and his operations team. Kenny is the facility manager and leads a team that reclaims used antifreeze collected from Crystal Clean's sales and service representatives to produce new antifreeze products. The new product goes back to customers and creates a sustainable, closed-loop system that is cost-effective and reduces waste.
"I love being able to do what I do at Crystal Clean," Kenny shared. "I've been in the business for more than 20 years, and it still amazes me how we're able to take used antifreeze and transform it into a new product. The science behind the pre-treatment, distillation, and blending process keeps on improving and that is helping us create a premium product year-after-year."
When you walk into the Battle Creek antifreeze recovery center, it can be easy to get overwhelmed initially with everything you see. Pipes, valves, racks, towers, machinery, and loading docks are all around you. Things are always moving with operators running equipment, loading and offloading trucks, testing product quality, and more.
"Our facility operates 24/7, so there are plenty of moving pieces to keep track of," Kenny said. "Organization is key to running a facility like this and my goal is to make sure our team has everything they need to work effectively. I'm constantly planning to ensure we have enough feedstock to create our product, plenty of containers to store product in, and that we have transportation coordinated for receiving materials and shipping finished product."
The Battle Creek facility is one of Crystal Clean's largest antifreeze recovery centers and is continuing to expand as the company's antifreeze service line grows. On average, the facility processes more than 160,000 gallons of antifreeze each month!
"Kenny's leadership and his team at the Battle Creek facility are why the facility is operating at such a high level of excellence," said Manny Robles, Crystal Clean's Antifreeze Recycling Operations Manager. "It takes a lot of planning and coordination to run an antifreeze recovery operation, and they continue to exceed production goals month after month."
The success of the Battle Creek recovery center come from not just one person alone. Kenny shared that the excellence his team brings in each day is vital to their success and that he is there to support them so that they can do their jobs well. One of the first things Kenny does when he comes in for the day is check-in with all of the operators to make sure everything is running well. He also puts a big emphasis on frequent communication and asking questions.
"We couldn't do what we do without the amazing team we have at the facility," Kenny said. "Communication is key and I'm always listening to ideas from my team on how we can improve things at the facility to operate more safely and efficiently. We all take pride in working here and the team genuinely cares about what's going on with one another. We're all in this together."
Reflecting on his time at Crystal Clean, Kenny is excited for the things ahead. Sustainability is an important value to him, and he is proud to play a role at a company with the vision of helping the business world run cleaner. He is grateful for the opportunities he's been given and how it has helped him develop into the leader he is today. Kenny is looking forward to what's next as Crystal Clean continues to grow.