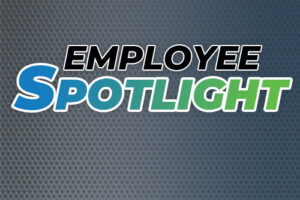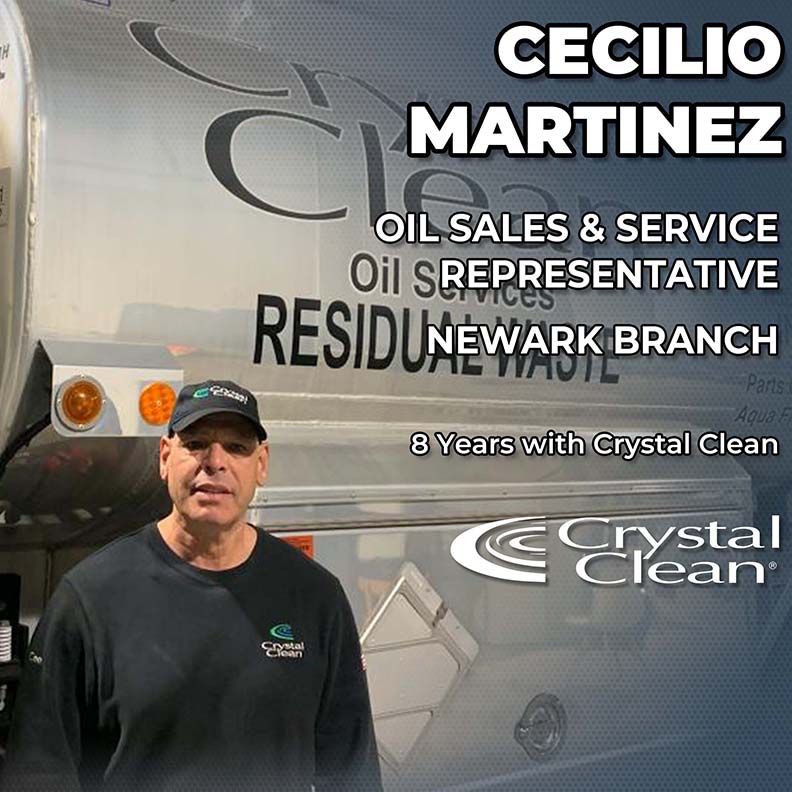 What do you like about your job? Is it the kind of work you do, the people you interact with each day, the sense of success from doing your job well, or something else? It can be a combination of many things, and for Cecilio Martinez it ultimately comes down to the relationships he builds and the sense of ownership he has for his success and meeting the needs of his customers.
Cecilio Martinez is an Oil Sales and Service Representative (OSSR) based out of our Crystal Clean's Newark, NJ branch. He's been with Crystal Clean for 8 years and has more than 15 years of experience in the industry, so he knows a thing or two about meeting the needs of his customers. When he started in the industry, he was originally a route driver and eventually became a sales and service representative at Crystal Clean and felt like he had found that perfect job for him.
"I love being out on the road and meeting new people each day," said Cecilio. "I found the sweet spot of what I like to do. Out on the road, you're the one that's responsible for if you have a successful day or not. I'm out there making calls and I feel that sense of responsibility for how I represent myself and the company."
When asked how he approaches working with customers, Cecilio shared that it's all about personality and keeping an upbeat attitude. Relationships are key to having success in any sales role and Cecilio makes it a priority to always pick up the phone when a customer calls. He says communication is key to having a happy customer and meeting their needs, especially in an emergency.
"The oil industry is a bit unique with how important your scheduling is while also still having some flexibility in your day," he said. "You can have your scheduled pickups for the day and get a call-in from one of your customers that needs their used oil collected early than they thought. That's usually when they have barely any oil storage left, so the first person that can service them is usually who gets the job. You have to be there at the right time to help them out, and if you help them in a pinch you become their go-to person when they need help."
Finding that right balance between scheduling and flexibility that week is a team effort, and that's why the Newark Branch starts off each week with a team huddle to go over the schedule for everyone so everyone is on the same page and can be as productive as possible.
"Teamwork is important at our branch and I'm truly proud of how everyone has a team mentality," shared Newark Branch Manager Brian Sullivan. "Everyone is willing to jump in and help at any moment if someone is out on vacation or needs some extra support on a busier day. All of us communicating back and forth helps both our branch and ourselves individually do great work week in and week out."
Cecilio shared that being an OSSR is hard work, and it takes the right kind of mindset to be successful in the role. The results speak for themselves, with Cecilio being a six-time Crystal Club attendee with the best of the best in the company. Two of Crystal Clean's core values, relationships and safety, are key to what he shared has helped him experience so much success in his role.
"Building relationships with your customers is huge, and I know my customers are depending on me to help them out and get the job done," he shared. "Still, for me safety is the number one priority each day. The minute you step into your truck, safety becomes the top priority. It's always important to look at a service job first and analyze the situation to figure out the best approach to get the truck in and figure out the best plan to get the job done."
Looking forward to the future, Cecilio plans to keep on doing good work each day and continue growing the oil program at his branch. He's proud of what he has accomplished so far and sees plenty of opportunity to grow the oil business on the east coast. He's excited for the team at his branch to grow in the upcoming years and has advice for any new employees starting their career in the industry.
"The people I work with are what make the difference for me, and I want to see everyone at our branch succeed," Cecilio said. "Sales can be a tough job, but don't get discouraged if someone turns you away. If you knock on 10 doors, one of them is going to give. It takes time, but if you're consistent and have hope, you'll succeed."