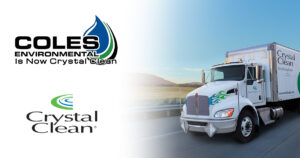 Heritage-Crystal Clean, LLC (Crystal Clean), a leading provider of parts cleaning, used oil re-refining, and hazardous and non-hazardous waste services primarily focused on small and mid-sized customers, acquired Coles Environmental, based in Bakersfield, CA, on August 24, 2021.
"With this acquisition, Crystal Clean continues to strengthen its position in the western United States," Crystal Clean President & CEO Brian Recatto said. "Coles Environmental has the capabilities and permits to process and consolidate a wide range of California hazardous and industrial non-hazardous materials, allowing us to continue growing our customer base and offer first class, sustainability-minded services."
Coles Environmental was founded in 1988 and operates a state and federally permitted facility, offering environmental services, testing, and treatment for bulk solids, liquids, and containerized wastes. The facility will be integrated into Crystal Clean as a waste processing facility and distribution hub for many of the company's products and services. The location will improve Crystal Clean's route density, distribution cost structure, and efficiency. Coles Environmental will be transitioning to doing business under the Crystal Clean name.
"Joining the Crystal Clean network of branches is an exciting next step," said Bryan Hill, General Manager of Coles Environmental. "Customers will continue to receive the same great service from the same great people, now with the support of Crystal Clean's nationwide network and wide range of services to offer customers throughout California."
Heritage-Crystal Clean was founded in 1999 and operates a network of more than 85 service branches across the nation and multiple waste recovery centers, including an oil re-refinery, regional antifreeze recovery centers, and several wastewater treatment facilities. Crystal Clean offers the wide range of services needed to protect the environment and create a brighter, sustainable future.