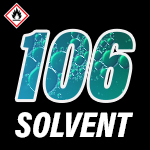 Multi-Purpose, Low-Flashpoint Solvent
Crystal Clean's 106 Mineral Spirits solvent is a multi-purpose, low flashpoint solvent. It offers quick and aggressive cleaning and is part of Crystal Clean's reuse program. This solvent is managed as a product, not hazardous waste, and used solvent is collected and used as a substitute ingredient in manufacturing processes.
We can help provide more detailed information on the specific applications suited for our various solvent chemistries.