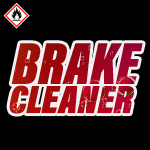 Solvent Chemistries
Brake Cleaner
Solvent Engineered for Brake Cleaning
Crystal Clean's Brake Cleaner is a thorough and effective way to degrease and remove contaminates from brake drums, pads, discs, lines, cylinders, and clutch parts.
Brake Clean Offers These Advantages:
Non-chlorinated
Low Odor
Safe for Aluminum
Evaporates Quickly, Leaves No Residue
Our cleaner is extremely effective in removing oils, resins, tar, and dust from metallic surfaces. The Brake Clean product is sold in a 55-gallon drum. This product is not designed for use in a parts cleaning machine. We can help provide more detailed information on the specific applications suited for our various solvent chemistries.