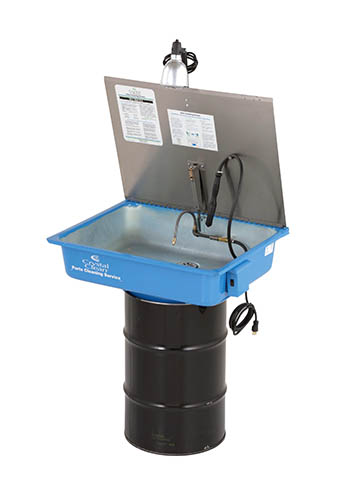 Solvent Drum Mount Unit
"A Timeless Design Improved"
The Model 1601/1602 solvent parts cleaner takes the original sink-on-a-drum design for parts cleaners and rebuilds it to provide modern safety features and conveniences. The machine is built from rugged constructions for extra durability and includes modern lighting, cleaning tools, and a recirculating pump for ease of use. The Model 1601 is designed to be mounted on 16 gallon drums and the Model 1602 is designed to be mounted on 30 gallon drums.
Typical Applications:
Automotive & Truck Shops
Quick Lubes
Machine Shops
Maintenance Operations
Specifications
Model 1601
| | |
| --- | --- |
| Inside Tank Dimensions | Outside Tank Dimensions |
| 28" x 18" x 7.5" | 30.5" x 20.5" x 56" |
| Electrical | Standard Chemistries |
| 115 VAC 60Hz 1Ph 15Amp | Available Solvents |
Model 1602
| | |
| --- | --- |
| Inside Tank Dimensions | Outside Tank Dimensions |
| 32" x 24" x 7.5" | 34.5" x 24" x 63" |
| Electrical | Standard Chemistries |
| 115 VAC 60Hz 1Ph 15Amp | Available Solvents |